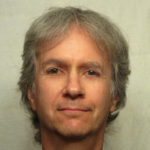 I'm Paul Battersby, creator of the free Virtual Playing Orchestra. A free orchestral sample library which contains modified versions of what I felt were the best free orchestra samples currently available. I built this orchestral sample library because I needed it for myself, and I decided to share it with anyone who wanted it.
My musical history began when I took percussion lessons (drums, timpani, xylophone) from the age of 10 until I was in high school. In my first year of high school I taught myself to play keyboards. After my last year of high school a friend lent me his guitar, which fortunately for me was in tune because to begin learning, I first had to figure out what note was played by each string by plucking the string and finding that note on a piano.
Throughout high school I played in the orchestra and in a couple of rock bands as well. Since then, I've been in a few bands either as a drummer, or keyboardist or guitarist. Over the years, I realized that I'd rather arrange and compose music than perform it.
In my spare time I study orchestration and mixing. I'm working on composing more of my own music but I've also enjoyed adding drums, bass, strings or even full orchestration to original songs written by others. When I'm creating a track for a song, I try to make each virtual instrument as realistic as I can. I never use drum loops or sampled song fragments. When I work on a song, everything I do is custom created for that song.