Virtual Playing Orchestra: "It covers all the needs" – vitalker
[Downloaded 98,987 times since version 1.0 – Nov 3, 2016]
Virtual Playing Orchestra is a full, free orchestral sample library featuring section and solo instruments for woodwinds, brass, strings and percussion. Click the buttons below to learn more, to download the library and to hear a few compositions using the free orchestral instrument sounds that are available.
---
---
Download Virtual Playing Orchestra 3.2.2
Virtual Playing Orchestra consists of 2 parts: wave files and scripts. These two things work together. The scripts configure the use of the wave files. You need to download the "Wave Files" plus at least one of the "Standard Orchestra" sfz scripts or the "Performance Orchestra" sfz scripts (depending on how you want to control the sounds) then unzip each zip file in the same place and in the same way as you did with the wave files, or wherever your DAW (digital audio workstation) can find the files you unzip. Either way, all .zip files need to be unzipped in the same place and in the same way (i.e. extract the .zip files into the same sub-directory, "Virtual-Playing-Orchestra3" for example).
IF YOU ARE ASKED IF YOU WANT TO OVERWRITE EXISTING FILES, SAY YES.

DOWNLOAD WAVE FILES

PLUS ONE OR BOTH ORCHESTRAS

---
What Is Virtual Playing Orchestra?
Virtual Playing Orchestra is a free orchestral sample library, in sfz format, that attempts to emulate multiple articulations of the solo and section instruments from a full orchestra using the best free samples from Sonatina Symphonic Orchestra, No Budget Orchestra, VSCO2 Community Edition, University of Iowa, Philharmonia Orchestra and extra free samples from Mattias Westlund, author of Sonatina Symphonic Orchestra.
The plan was to start with Sonatina Symphonic Orchestra, add new samples from Mattias Westlund and samples from newly available sources that had recently become available to create what I would like to see from a Sonatina Symphonic Orchestra 2.0.
I've listened to every single sample that made it's way into this library (and continue to do so as I use this sample library in my own music), and have done my best to replace any noisy samples, ensure each sample plays in tune, each note peaks at about the same volume and is panned in the center of the stereo field. I'm hoping this scrutiny will result in me being able to provide the best, most complete, free orchestral sample library available.
Features:
ALL sustain samples are looped. Use this power responsibly! These samples were not looped to create musicians with infinite lung capacity but instead were created because many of the samples were too short.
Section and solo instruments
Sustain, normal, staccato, accented articulations for all strings, brass, woodwinds
Pizzicato for all strings
Tremolo for all strings sections (plus tremolo for solo violin)
Articulations can be loaded individually or as part of a key switch patch (in the standard orchestra)
Articulations are selected based on how you play a note (in the performance orchestra)
Round robin for staccato strings to simulate up and down strokes of the bow
2 velocity layers for trumpets, french horns, trombones
A light randomization of pitch and volume when repeating notes, like real players
All samples have been checked (and corrected if necessary) for tuning, panning issues
All samples volumes have been equalized so max volume is approximately the same value
All instruments are set to only play within their proper note range
All instruments (in the standard orchestra) include a general purpose articulation called "Normal-mod-wheel". This is effectively a sustain patch with a fast attack, but the mod wheel reduces the rate of the attack, for the times when you don't want the slower crescendo of the sustain patch, but you still want a sustained note.
General purpose patch for full string section (violins + violas + cello + bass in a single patch spread across the keyboard)
General purpose patch for full brass section (trumpet + french horn + trombone + tuba in a single patch spread across the keyboard)
General purpose patch for full woodwinds section (piccolo + flute + oboe + clarinet + english horn + bassoon in a single patch spread across the keyboard)
Requirements
REVERB! – These instruments are from multiple sources. To make them sound like they belong in the same room, and to make them sound more like real orchestral instruments, REVERB IS ESSENTIAL.
An sfz player. You load .sfz files (these control how the sound samples are to be used) into an sfz player (listed below), in order to play the chosen instrument.
Suspension of disbelief. With free orchestra samples, there are limitations. I tried to do the best, with the best samples that were available to me.
Supported Sfz Players
This library is known to work with the following .sfz players. It may work with others, but I don't know. If I'm told it works with others, I'll list them here.
Sforzando, Garritan Aria Player, LinuxSampler*, MuseScore, sfizz
* with LinuxSampler, in key switch patches, default selection of a sound (typically "sustain") doesn't automatically work. A key switch key must be pressed before any sound will play. Also, patches that use the MOD wheel (.sfz files with MOD or PERF in the name) may not work properly since linuxsampler apparently doesn't permit any controller to control more than one parameter at a time however, I've been told that editing the .sfz files and replacing "gain_cc1" with "volume_oncc1" solves the problem. (thanks to Kevin Haines).

Installation
Unzip the downloaded files somewhere that your Digital Audio Workstation (DAW) can find them, then load whichever instrument .sfz file you want into your sfz player (like Sforzando) within your DAW.
You must unzip both the zip file for the .sfz scripts and the zip file for the .wav files to the same destination and in the same way (i.e. extract the .zip files into the same sub-directory, "Virtual-Playing-Orchestra3" for example). If you are asked to overwrite files, say yes. This library requires both downloads (one of the .sfz script downloads and the .wav download) to function.
If you have installed and unzipped the files correctly, you should have a sub directory called "Virtual-Playing-Orchestra3" containing folders like this: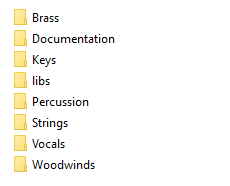 *** The "libs" directory must be present as shown in the picture above ***
So, if everything is installed correctly as show in the picture above, all the directories: Brass, Documentation, Keys, libs, Percussion, Strings, Vocals and Woodwinds are in the same place. If not, then you need to move them into the same place.
The "libs" directory contains all the .wav sample files (the actual sounds of each instrument). The other directories contain the various scripts (which use the .wav files) for each orchestra section.
How to use
To use the instruments in this orchestral sample library, it's necessary to have an sfz player. This is a plugin for your DAW (Digital Audio Workstation) that can read the .sfz files, load the .wav samples and play back a sound when a key is pressed on your MIDI controller. You will have to explore the .sfz player to understand how to load the .sfz files but one way, at least with the free Sforzando sfz player, is to simply drag and drop a .sfz file into Sforzando.
I've provided a few different .sfz variations for each instrument. There are SOLO files, where it's the sound of a single player, there are SEC files for the sound of multiple players playing in unison. There are a few articulations (methods of playing) such as:
sustain – long held notes that start slowly
staccato – short choppy notes
normal MOD wheel – long held notes that start quickly but the MOD wheel can adjust how quickly the note starts
accent – an initial quick sound followed by a slightly delayed sustain
tremolo – for the strings only, this is similar to the sustain but the player shakes the bow back and forth while playing the note
pizzicato – for strings only, the player plucks the string
DXF – only available for trumpet, french horn and trombone in the standard orchestra, these patches use the mod wheel to control the dynamic cross fade between quiet and loud samples for a given note as the volume increases with the movement of the mod wheel.
KS – these are key switched patches. Rather than needing to load each of the above into a separate instance of a .sfz player, load a KS patch instead and use a special MIDI note to change which articulation will be used. Key switched .sfz file names are in the form KS-XX. The XX indicates where on a MIDI keyboard the key switches start. KS-C2 for example, indicates that pressing C2 will cause the sustain articulation to be used. See the documentation for the Standard or Performance libraries (links in the download area) to learn which keys select which articulation for each instrument
Special thanks to those who listened to the pre-releases and offered feedback: Mattias Westlund (from Sonatina Symphonic Orchestra), Otto Halmén (see his Youtube channel), Sam Gossner (from Versilian Studios) Michael Willis (responsible for debugging for LinuxSampler), bigcat1969, Robin, and I also want to thank those who help spread the word and recommend Virtual Playing Orchestra to people looking for a free orchestra sample library.
If you like this free orchestral sample library and you compose something with it, feel free to leave a comment down below with a link to your composition for others to hear.
Licensing
If you're using this free orchestral sample library to make music, then licensing is easy. You can do whatever you want with the music you make, even sell it commercially.
If you want to modify, repackage or redistribute the library, licensing is a little complicated since different licenses apply to different parts of the library (see the source sfz files and see below) but generally, you can safely copy, redistribute, modify whatever you want provided appropriate credit is given to creators of the content used or at the very least, link back to my site which gives credit to the creators of the various content of this sample library and that any derived samples or library is kept for personal use only or is given away for free.
I do not feel it is right to repackage and sell this library in part or in whole for profit. This library is free. The source material is free. Let's keep it that way.
For more complete licensing information see the Creative Commons licenses that apply to this library and the sources used to create this library. If there is any conflict between the license as found on the web site and what is included as part of the distribution files, the license on the Virtual Playing web site should be considered the most recent.
Here are the licenses for the individual libraries that were used as source material
---
Sonatina Symphonic Orchestra http://sso.mattiaswestlund.net/
Creative Commons Sampling Plus 1.0 license.
---
Mattias Westlund additional samples http://mattiaswestlund.net/samples/
Creative Commons Attribution-ShareAlike 3.0 Unported license
---
No Budget Orchestra https://github.com/ssj71/No-Budget-Orchestra
Attribution-ShareAlike 4.0 International (CC BY-SA 4.0)
---
VSCO 2 Community Edition http://vis.versilstudios.net/vsco-2.html
CC0 1.0 Universal (CC0 1.0) Public Domain Dedication License
---
University of Iowa Electronic Music http://theremin.music.uiowa.edu/
"freely available"
---
stamperadam https://freesound.org/people/stamperadam/
Creative Commons 0
---
Philharmonia Orchestra https://philharmonia.co.uk/resources/sound-samples/
Creative Commons Attribution-ShareAlike 3.0 Unported License

* Special Note: for anyone concerned about licensing of Philharmonia Orchestra samples, note the following clause in the Creative Commons License:

"No additional restrictions — You may not apply legal terms or technological measures that legally restrict others from doing anything the license permits."

Which means this statement from the Philharmonia web site:

"The only restriction is they must not be sold or made available 'as is' (i.e. as samples or as a sampler instrument)."

... is nullified by their use of the Creative Commons License, although I'd argue that I'm not giving away any Philharmonia Orchestra content as samples nor as a sampler instrument. I'm giving them away as part of an orchestral sample library and I've processed all the samples anyway so they're not being given away "as is"

* UPDATE: It seems the Philharmonia Orchestra web site no longer shows the Creative Commons License, however quoting the license terms "The licensor cannot revoke these freedoms as long as you follow the license terms"

Here's an older version of the Philharmonia web site where the Creative Commons license was shown (scroll to the bottom of the page).

Philharmonia Orchestra from the Wayback Machine
---